Care Navigation & the Right Place for your Treatment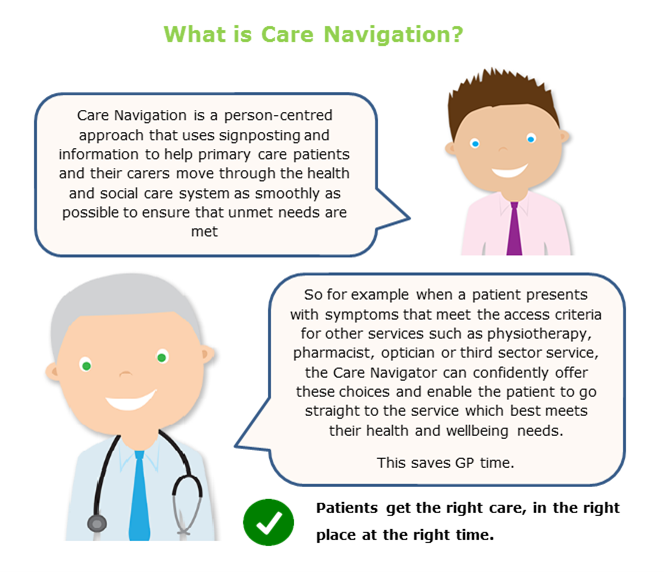 Benefits to Patients
If patients meet the access criteria for alternative services, they can choose to go straight to the service which best meets their health and social care needs.
Seeing a physiotherapist or pharmacist or a non-clinical service e.g Social prescribing rather than seeing a GP first improves the patient experience.
This means one visit not two
Benefits to General Practice
Greater access for patients that need a GP appointment, as other patients are signposted to more appropriate services.
Improved patient outcomes
Improved patient experience
Improved job satisfaction
Advice to Help You Find The Right Treatment
If you're not sure what to do – contact NHS 111
Available 24-hours a day, seven days a week, this service provides advice on what to do if you're feeling ill and you're not sure what to do, as well as giving you details of local services from late night pharmacists to emergency dentists.

Expert advice from your local pharmacy
Pharmacists are highly trained professionals and are an integral part of the NHS, providing support to patients who wish to care for themselves. They can answer patients' questions about choosing and using the right medicine, provide easy to understand advice on treating everyday ailments, and help patients to decide if they need to see a doctor. Advice from pharmacists is free and you don't need an appointment to see them.
Lloyds (Rothwell) Tel : 01536 713232
Co-op (Rothwell) Tel : 01536 712392
Howitts (Desborough) Tel : 01536 761115
Well Pharmacy (Desborough) Tel : 01536 760232
Corby Urgent Care Centre
The Corby Urgent Care Centre is on the Willowbrook Health Complex, Cottingham Road, Corby.
The Centre is open 8 am - 8 pm, every day of the year. The new centre brings a range of benefits to patients including a single point of access to urgent care services, reducing the need for patients to travel to A&E.
There is also a range of diagnostic facilities including an x-ray department with extended opening hours and short-term observation bays - again so patients do not need to travel to a hospital for these services.

Advice on care when your doctor's surgery is closed
Need medical help when your GP surgery is closed? For URGENT medical care that cannot wait until your GP surgery opens, call NHS 111.


Serious injuries and emergencies
A&E IS FOR EMERGENCIES ONLY, it is not for minor illnesses like ear ache and coughs and colds. Go straight to an Accident and Emergency Department with serious injuries or illness. There are Accident and Emergency Departments at:
Kettering General Hospital
Northampton General Hospital

Call 999 for an ambulance for emergencies such as loss of consciousness, severe chest pain, serious breathing difficulties, serious accidents or severe loss of blood.

Emergency dental treatment
Your doctor is not trained to deal with dental problems. Dentists do not work in minor injury units, the Walk-in Centre or Accident and Emergency departments. If you have toothache or an abscess in your mouth, especially if you have swelling around the tooth, you should contact your dentist during normal opening hours. To access emergency dental advice out of opening hours please call NHS 111.