Repeat Prescriptions
If you are on regular treatment your doctor may arrange for you to be able to collect your prescription without an appointment using a computerised system.
Please make your request in person, online or by handing in your repeat slip which must be ticked to show which items you wish to order. You can also make medication requests in writing by letter (with a stamped, addressed envelope) and allow at least two working days, excluding weekends and bank holidays before collection. We recommend submitting your request well before you run out of medication to allow for unforeseen delays. You can hand in your repeat medication requests up to 7 days prior to its next issue due date. We do not accept requests for prescriptions by telephone as this can lead to errors. Your medication will be reviewed regularly and you may be asked to see your doctor before further prescriptions are issued.
If making a custom request aswell as a repeat prescription please submit them separately. Custom requests are for medications you have been prescribed in the past.
Please allow 48 hours for your repeat request to be actioned. This excludes weekends and bank holidays.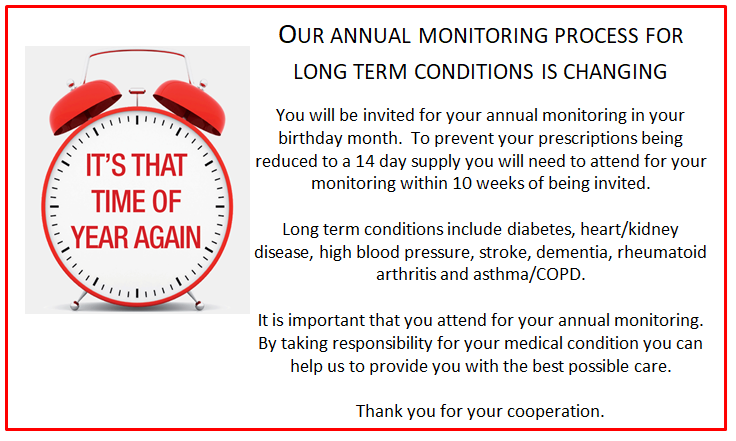 Internet Repeat Prescribing
Rothwell Medical Centre and Desborough Surgery are pleased to be able to offer an online service to their patients with internet access for requesting their repeat medication.
This is in the format of a computerised system called SystmOnline and is available to use via home computers. To access this system patients are required to sign up via the practice reception to obtain their password and access authority. Please bring some identification when registering for this service (This will need to be photo ID, preferably a passport or driving licence, if you have neither of these please speak to the reception team).
Non-Repeat Prescription Requests
You may occasionally wish to request a further supply of prescription-only medication, which has not been authorised for repeat prescription. You need to provide this request in writing, in person with the reception team by visiting the surgery, or using our online service.
We will normally refuse to issue prescriptions for items you have not been issued before, or for items available from pharmacies or shops without prescription.
Not Registered for Online Services?
Prescription Fees
Help with NHS costs
In England, around 90% of prescription items are dispensed free. This includes exemptions from charging for those on low incomes, such as:
those on specific benefits or through the NHS Low Income Scheme
those who are age exempt
those with certain medical conditions
More information is available at NHS Choices
NHS Charges
These charges apply in England only. In Northern Ireland, Scotland and Wales prescriptions are free of charge.
Prescription (per item): £9.65
12-month prepayment certificate (PPC): £111.60
3-month PPC: £31.25
If you will have to pay for four or more prescription items in three months or more than 14 items in 12 months, you may find it cheaper to buy a PPC.
There is further information about prescription exemptions and fees on the NHS website.
Changes to Prescriptions for Minor Health Conditions
Following an extensive public consultation exercise, NHS England (NHSE) medicines which are available to buy in a pharmacy or supermarket (over the counter) will no longer be routinely prescribed for the following conditions.
For information on how these conditions are treated, look up your condition here.
FAQ's
Why is it changing?
The NHS has been spending around £136 million a year on prescriptions for medicines that can be bought over the counter, such as paracetamol.
By reducing the amount it spends on OTC medicines, the NHS can give priority to treatments for people with more serious conditions, such as cancer, diabetes and mental health problems.
How your local pharmacy team can help you?
Pharmacists can give clinical advice and help you choose the most appropriate treatment. If your symptoms suggest it's more serious, they'll ensure you get the care you need. You can buy over the counter medications for the common illnesses listed above.
What if my symptoms don't improve?
Your local pharmacy team can tell you how long to expect the symptoms of your condition to last. If they haven't improved after this time or you start to feel a lot worse, you should:
Go back to the pharmacy for further advice
Call NHS 111
Contact your GP
Will there be any exceptions?
In some cases, you can still get prescriptions for medicines used to treat these conditions. You may still be prescribed a medicine for a condition on the list if:
you need treatment for a long-term condition, for example regular pain relief for chronic arthritis or inflammatory bowel disease
you need treatment for more complex forms of minor illnesses, for example migraines that are very bad and where OTC medicines do not work
you need an OTC medicine to treat a side effect of a prescription medicine or symptom of another illness, such as constipation when taking certain painkillers
the medicine has a licence that doesn't allow the product to be sold to certain groups of patients. This could include babies, children or women who are pregnant or breastfeeding
the person prescribing thinks that a patient cannot treat themselves, for example because of mental health problems
Will probiotics, vitamins and minerals be prescribed?
GPs, nurses or pharmacists will also generally no longer prescribe probiotics and some vitamins and minerals. You can get these from eating a healthy, varied and balanced diet, or buy them at your pharmacy or supermarket.
More information is available on the NHS England website here